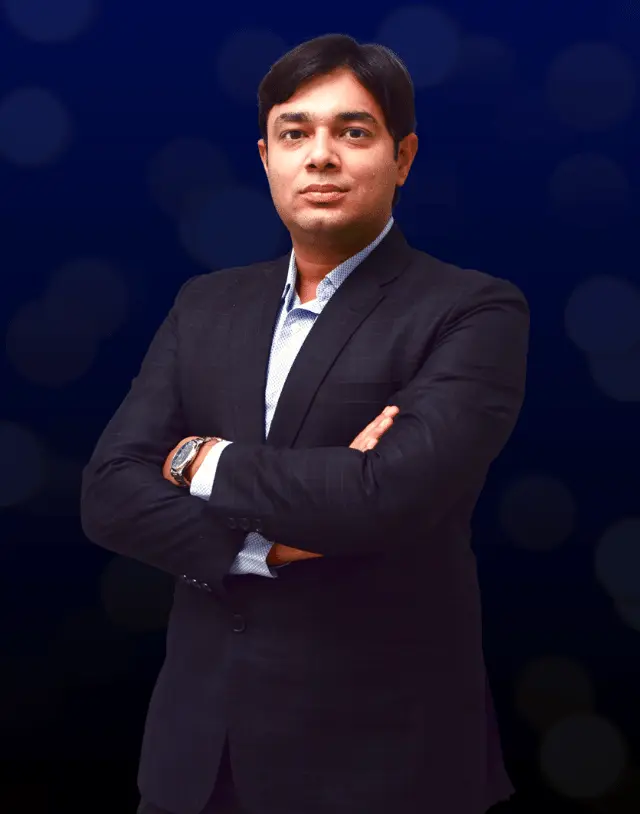 CA Namit Arora sir is a distinguished commerce graduate and a prominent member of The Institute of Chartered Accountants of India (ICAI). With a commendable academic record, he has cleared all ICAI examinations in his first attempt. Since 2011, Namit sir has been teaching at the professional level, sharing his extensive knowledge and experience with students.
Apart from his teaching career, Namit sir has also worked as a corporate trainer, imparting his specialized knowledge in cost and management accounting, financial management, and economics to professionals. His exceptional clarity of concepts is evident not only in his teaching but also in his writing.
Hello Namit sir. I had given my exams in May 2023 and you know i scored Costing 98 and FM 85 marks. I want to thank you for your countless efforts for the students. Your teaching style was amazing. The approach with you tackle the questions helped me a lot in the exams. The way you teach with conceptual clarity helped me a lot. You are such an inspiration for the students. And most importantly, you have not monetized you YouTube channel. That's amazing. You know very well if any ads comes in between the lectures, the focus of the student gets interrupted. What you are doing for the students can't be described in words!!!
Namit sir is a great teacher, not only teaches Costing and Financial Management but also important life truth. His techniques of making one learn the subject is superb. He will make you feel you are the expert of subject. He repeats a topic so much that one will never forget that. Some time you will find class boring as sir repeat so many times but at the end u will realise it every time he explained you learn something new. He organises party for the refreshment of Students.
Recommending Namit sir to anyone is a no brainer! His classes are extremely productive and efficient. He walks an extra mile to ensure that all the students are able to grasp the concepts of costing and financial management.
Best teacher for CA inter Cost n FM Eco. Provides in depth knowledge of concept then make us solve ample questions in class itself. Doubts r also cleared very quickly for pen drive students. N lastly the only teacher who provide equal level of satisfaction in Fastrack batch as Regular batch in such reasonable cost.
The best teacher out there! Had a wonderful experience and got 90 Marks after taking his classes! Most importantly he won't make u feel like he is a teacher! He will treat u as a friend and can call or msg sir he always answer! Great teacher indeed! And 2.5 hours doesnt feel like 2.5 hrs when sir is teaching it seems far less!!
Excellent teaching styles... U won't feel regret after buying his lectures. Exemption to pakka hai in Costing and FM. I scored 92 Marks in Cost FM in May 2012. Costing ko agr kisi ne aasaan bnaya hai to vo Namit sir hi h. No one in this field can beat Namit sir in cost & fm.
Best classes ever I have taken.... best faculty of Cost & Fm, I am pleasant to had a part of Namit Sir's class. That was best experience of my study life where I could learn how to read books and pass the exams with excellent marks. Thank you so much Sir we can never pay for this.
Namit sir is the best teacher for Costing and FM Eco. He always treat his students very well and give time after class for solving their doubts the best part is if you miss any class or you have any doubts he give you extra time also overall he is best teacher i am sure. i know this because i took class from a very renowned faculty of Delhi NCR and switch to him and he is fabulous thank you so much sir.
Most brilliant, most helpful person in needed, one of the great teacher and human being. His style of teaching is very fantastic. Open-minded, Friendly and he have the good sense of humour and handsome from inside and outside. He is the young minded can change your life. Attend the class once u will score 80 to 100 marks 100 %. When mine laptop damage 3 times he helped me to provide free username and password of pen drive class. Thank sir for contributing to the society by way of teaching.
CA Namit Arora Sir is a vast experience in cost & fm. His teaching style is ultimate & very friendly with students. Sir gives practical example for better understanding. I'm glad to learn from you sir. Best Teacher!!!!!!!!!!!!!!!!!!!!
A great Teacher!! CA NAMIT ARORA SIR is a patient, intervening and vastly knowledge person. I can't thank him enough for all the help that he give me, with he's help I was able to take my work to a next level. I will definitely recommend him as a tutor..!
The plus point about NAC compared to other classes is even though there are hundreds of students in the class you will feel connected with teacher vibes and generosity. That will always help you enhance your knowledge as well pushes you to be like CA Namit Arora as he is the best!
Namit arora sir is the best faculty of cost n fm. He makes cost n fm very easy to understand by conceptual clarity of every topic. His hard work one day makes him best faculty of cost n fm in the world. My personally advice for all students of CA-Inter believe me NAC is the best institute of cost n fm who makes your future bright in cost n fm. Thank you so much god for give me a best teacher of cost n fm
Namit sir has made cost as easy as ABCD. Due to his extraordinary teaching skills, Knowledge of students' psychology, experience and many more so everyone wishing to get extraordinary marks in cost and fm is Suggested to get class from Namit sir!!
Namit sir is probably best teacher for CA inter cost and management. For conceptual clarity as well as assured good marks you should take his class and refer his notes. He teaches in that manner that never make subject dull or boring, things tend to register in your mind effortlessly as he ensures repeated revision. The way he correlates the various aspect of syllabus makes you understand the subject very well. He will make sure that everything makes good sense to you.
Best classes for Costing and Financial management (CA-Inter) in whole India. I took his classes and secured 91 marks with ease in May 2014. He enables you with concepts and ample questions are solved in classes.
Every Digit Speaks About us
Our Excellent Students Google Reviews
Paras Agarwal
18. July, 2023.
CA Namit arora sir is the best teacher of cost and fm eco. His way of teaching is just of another level and the concept clarity i get after watching his lecture is unmatchable
shruti kashyap
30. September, 2022.
The best faculty for FM ECO and COSTING...!!!
Aseem Vyas
28. June, 2022.
Recommending namit sir to anyone is a no brainer! His classes are extremely productive and efficient. He walks an extra mile to ensure that all the students are able to grasp the concepts of costing.
jitu gupta
4. March, 2022.
Superb faculty for cost FM 👌 No one can teach cost and fmeco subject like Namit arora sir.